KATIE RICHARDS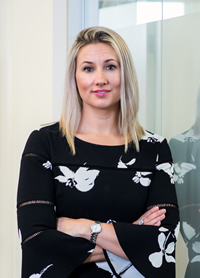 Katie is head of the Matrimonial and Family department at Chancery Legal and has been practicing Collaborative law since 2010.
Katie believes that, where possible and appropriate, and before litigation is embarked upon, divorcing couples should have an opportunity to explore alternative methods of dispute resolution in the hope that settlement can be achieved in a respectful and amicable manner. Throughout her career at the Bar, Katie has demonstrated this philosophy in her day-to-day dealings with clients and continues to strive to achieve the best results possible in a collaborative manner.
Katie has experience in all facets of divorce and relationship breakdown, including multi-jurisdictional disputes and regularly represents high net worth individuals in complex property, trust and financial proceedings. In addition, Katie routinely appears for parents in difficult custody, care and control and access disputes.
Katie obtained her law degree from Reading University and completed her Bar Vocation Course at Cardiff University. In 2002, Katie was called to the Bar of England and Wales by the Honourable Society of Gray's Inn, London. Having successfully completed her pupilage at 33 Park Place, Cardiff, where she remained as a tenant for 5 years, Katie accepted an invitation to join the leading family law department at Temple Chambers in Cardiff, where she continued to enjoy a successful practice until she moved to Bermuda in 2009. Katie was called to the Bermuda Bar in February 2010. Prior to joining Chancery Legal, she worked at Charter Chambers Bermuda Limited for four years having previously spent two years at Wakefield Quin Limited.
Katie is a committed advocate of the collaborative law process and is desirous of assisting parties to reach an amicable and fair resolution of their issues. She possesses a wealth of knowledge in amicably resolving disputes during the often stressful and emotional times following the breakdown of familial relationships.
Katie is Secretary of the Collaborative Law Alliance and a member of the International Academy of Collaborative Professionals.