ÉRIKA THOMAS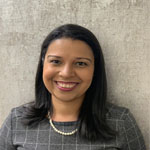 Érika is an associate at MacLellan & Associates and works in the area of family law, wills, estate and immigration.
Érika was called to the Brazilian Bar in Rio de Janeiro in June 2006. She was admitted to the roll of Solicitors of England and Wales in April 2017 and then called to the Bermuda Bar in July 2017.
Érika is bilingual and speaks Brazilian Portuguese and English.
Érika is a member of the Collaborative Law Alliance, the International Academy of Collaborative Professionals and of the Bermuda Branch of the Chartered Institute of Arbitration. She is also a member of the Committee of 25. Érika volunteers at the Bargain Box which belongs to the Committee of 25 and at the St. Paul's A.M.E. Food Programme. Additionally, Érika is a member of the Centenary United Methodist Church and the chairman of the Staff Parish Relations Committee of Centenary United Methodist Church.
Érika believes that the Collaborative Law Process is the best process to assist couples obtaining their divorce in a fair and sensible way.